General Assembly of the World Values Survey Association
Interview with Eduard Ponarin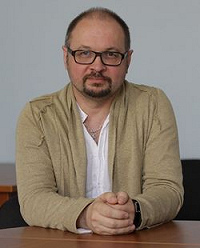 On March 18–22 in Doha, Qatar, General Assembly of the World Values Survey Association met at the World Conference on "The Rise of Public Engagement, in the region and in the World". The conference was co-organized with SESRI (Social and Economic Survey Research Institute) and the Arab Barometer. Eduard Ponarin, Director of the Laboratory,  took part in the meeting and now is telling us about Assembly and reports which were successfully delivered by LCSR researchers.
E.T.: Please tell me what was the conference dedicated to?
E.P.:Well, it was a regular event that takes place every 2 years. It was the General Assembly of the World Values Survey Association where all country representatives, those who were able to produce a data file from their country in this wave, had the right to vote. The conference coincided in time with a conference by Arab barometer that was taking place in the same venue. I got to meet some interesting people from that project some of whom I had already known before. I presented the project that Veronika Kostenko, Pavel Kuzmichev and I are working on, about attitudes to women. I got a lot of positive comments. The most important event I guess was the change of president of World Values Survey Association. The long time founding president of the Association, Ronald Inglehart, stepped down and became the honorary president of the Association keeping his position in the executive board. And also there were elections to the executive board of this organization. There were 9 candidates to the membership and 6 people were elected, including Christian Welzel and me. The executive board later convened to elect a new president of the World Values Survey and now it is Christian Welzel. It was quiet unexpected to me that I was elected to the board. It is a great honor and I have to work hard to prove that it was not a mistake. At the same time it is also very pleasant.
E.T.: Congratulations! Can you tell me in details about the response on the project you are doing, on gender and democracy attitudes in Arab world?
E.P.: People were quiet exited. I got a lot of new contacts after the presentation. One interesting guy was doctor Musa Shteiwi from Center for Strategic Studies, University of Jordan, who I think is very serious person. We may develop some projects with him. I gave out all the visiting cards I took with me. Three people gave me the cards but I was out of mine. I got a huge number of questions and most of them were positive. There was also some critique, Pippa Norris (Harvard University) and Amaney Jamal (Princeton University) expressed their doubt in the age pattern that we observed. I assured them that we worked hard and double checked things. Nevertheless I promised them that we will check again that there is no mistake with coding in our data file.
E.T.: Is it the same trend we observed in Central Asia?
E.P.:Yes, I told them that we observe the same pattern in Central Asia, so it kind of saved me. People didn't believe the results. This is also an indication that the results were very interesting. I think people also liked my theory. Of course, it is our collective project but the theory was suggested by me, about the dissolution of the Soviet Union and how that changed the balance of power in the Arab world and therefore how the views of younger generation are different from the views of the older generation. It was so interesting that some people found it hard to believe. It will be a very good paper if we manage to publish it.
E.T.: What about other researches of our Lab, did they deliver their reports?
E.P.:Christian Welzel delivered his presentation on the book that he is publishing this year, and Roberto Foa also presented his paper during the Conference.
E.T.: What was Roberto's presentation about?
E.P.:It was about his theory of state-history influence on many things that we observe today, including crime.
E.T.: What was the response to his project?
E.P.:He was also very popular. He also got many questions. I should say that our Laboratory's researchers were very successful at Doha!
by Ekaterina Turanova