LCSR Annual Conference - Day 2
Stanislav Moiseev provided a summary of the day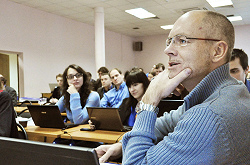 2nd International Annual Research Conference of the LCSR "Social Change in Cross-National Perspective" continues its work. The conference program for November 7th included four sessions. Twelve participants presented their reports on various topics such as nationalism, value consensus, elites, religiosity and tolerance.
The first session "Nationalism, Ethnicity and Conflicts" was chaired by Jon Miller (University of Michigan, USA). Marharyta Fabrykant (Belarusian State University, Minsk) was the first speaker of the day. She delivered a report on different types of nationalism in relation with traditionalist and atemporal concepts of collectivism. Then Alexander Kustov (University of Mannheim) presented his new project. Alexander tries to build an agent-based model of civil violence. He supposes that it could reveal some new insights on the nature of ethnic cleavages. Nadezhda Shilova (HSE, Moscow) shared with audience final results of her experimental research of xenophobia. A series of two-stage experiments were run and the main hypothesis about increasing punishments against the "others" was not confirmed. On the other hand observations of the participants in experimental group lead to conclusion that their motivation structure contained a "xenophobic" component
Yegor Lazarev (Columbia University, USA) with "Personal Authoritarianism and Foreign Policy Views of Russian Elites" opened the next session. Interesting content and lively manner of presentation helped him to bring back the audience which had been attracted by coffee-break. Margarita Zavadskaya (European University Institute, Florence) told about her new project. She investigates how and when values translate into political protest in non-democratic states. Kristina Puzarina (University of Manheim) presented her final report dedicated to the implementation of values-based approach and а multi-level analysis to estimation of public perception of human rights conditions.
After-lunch session was entitled "Religiosity, Tolerance and Family Behavior". Evgenia Bystrov (Jacobs University Bremen) demonstrated first results of her research of family behaviour and social change in Eastern and Central Europe.Elena Prutskova (St. Tikhon's Orthodox University, Moscow) spoke about religiosity and its influence on tolerance of behavior deviating from the prescribed norms of different religions. Alexandra Shubenkova (HSE, Moscow) also presented a new project devoted to study of determinants of religious radicalization.
Last session, entitled "Anti-Americanism, Social Cohesion and Value Consensus", was moderated by Ronald Inglehart (University of Michigan, USA; LCSR HSE, St. Petersburg). Kirill Zhirkov(LCSR HSE, St. Petersburg) reported his progress in investigation of socio-economic factors of anti-Americanism. Maxim Rudnev(ISRAS; HSE, Moscow) presented a new project. He is going to investigate whether value consensus affects sociopolitical and economic development. The last report of the second day of the conference was a guest presentation byZsófia Ignácz. Zsofia demonstrated results of a collaborative research of social cohesion conducted by research group from Jacobs University (Bremen). They disaggregated the concept of cohesion into nine core variables and applied that model to analyze cohesion in Germany. Despite of the common opinion about waning social cohesion they found out that its main dimensions are not declining, but increasing in certain areas.
by Stanislav Moiseev