Сonference «Integrating Genetics and Social Sciences-2014» (Boulder, Colorado, USA)
Andrey Shcherbak shared his experience about trip to the conference.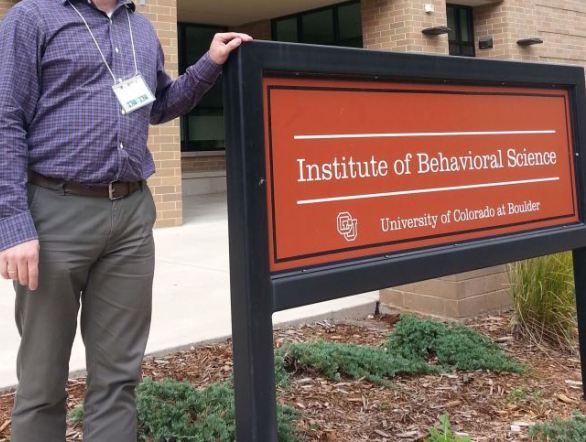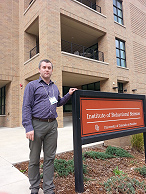 The LCSR has been studying the link between genes and social behaviour for a couple of years now. It should be mentioned that our laboratory was the first one in Russia to combine the poll (based on the WVS methodology) with the sampling of genetic material. I am interested in this topic and had two projects in the recent years on how the genes may correlate with the social changes. Thus, when I happened to see an announcement about the conference, I have immediately decided to take part in it. It is worth mentioning, that there was only one non-American participant apart from me.
The format of this small meeting (2 days, 30-40 participants) speaks for itself: it was intended for the specialists from this quite narrow field. Taking into account the fact that the topic is rather new, the organisers managed to bring together almost all the prominent figures from this research area. There were biologists and geneticists along with economists, sociologists and political scientists. Everyone came to the decision to start research on this topic in their own way. The most common topics of the presentations were an estimation of the role of genes, a gene-environment effect on the wide range of processes, including alcohol consumption, smoking, political participation, migration etc. The emphasis was made on the methodological questions.
The topic of my speech was "Early urbanization, decease transmission in historical perspective and the frequency of ADH1B*48His allele". ADH1B*48His is responsible for the metabolism of alcohol; it is associated with the smaller consumption of alcohol and lower probability for alcohol addiction. Together with Svetlana Borinskaya from the Vavilov Institute of General Genetics (Russian Academy of Science) we wrote a paper in which we give an explanation for the cross-country dispersion of this allele. We offer the following explanation: the dispersion is associated with the beginning of urbanisation in the ancient time, consequent growth of the pathogen load, and these 2 factors led to the positive selection of this particular variant of the gene.
On the whole, I find this visit very useful. I understood the level and the stage of current discussion on this topic. For example, I found out the key terms, like GWAS (Genome-wide Association Studies), GRS (Genetic Risk Score), and GCTA (Genome-wide Complex Trait Analysis). The conference «Integrating Genetics and Social Sciences-2014» reinforced my intention to continue the research in this direction.
by Andrey Shcherbak