Categorical data analysis
4th LSCR Summer School has started!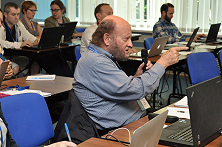 The 4th LCSR Summer School on "Categorical Data Analysis" starts on June 29, 2014 in Zelenogorsk, Saint-Petersburg. The event is attended by participants from different Russian universities, and also from Belarus, Belgium, France, Germany, Italy, Israel, Luxembourg, Spain, Switzerland, Ukraine, and the USA.
The Summer School-2014 is devoted to studying different methods of categorical data analysis which are relevant for comparative social research. The goal of this summer school is to provide assistance for graduate students, University faculty, and social scientists which are interested in developing their skills in quantitative methods of research in various fields. During the next two weeks Jacques Hagenaars (Tilburg University, the Netherlands) willexplain the basic principles of dealing with categorical data. Among others, several topics such as log-linear analysis of contingency tables, logistic regression, latent class analysis, factor analysis with observed categorical variables will be covered during the course. The course would be accompanied by practical lessons using Latent Gold and LEM free software.  Zsuzsa Bakk (a PhD student at the Tilburg University) will be assisting to Professor Hagenaars on practical part of the course.
Three smaller optional courses are scheduled for the both weeks of the summer school. The first optional course is titled "
Political Support and Democratic Values in cross-national perspective
". It will be held by the prominent German political scientist
Hans-Dieter Klingemann
(Social Science Research Centre (WZB), Berlin). During the course Hans-Dieter will speak about the key accomplishments in the field of political sociology which took place during the last two decades. The second course is called "
Modernization and Cultural Change
". This one is delivered by the scientific supervisor of LCSR
Ronald Inglehart
(University of Michigan, LCSR HSE). During the lectures Professor Inglehart will briefly describe the basics of integrated modernization theory. The last additional course on "
Changes in attitudes and religiosity: how to measure them
" will be given by
Kirill
Zhirkov
(LCSR NRU HSE). He will provide the listeners with the mainstream techniques directed towards operationalizing and measuring individual religiosity in cross-country research.
The members of the LCSR international research network will present

 

progress reports

 

on their

projects

during after-lunch sessions of the Summer School.

 This

 conference part

includes ten sections on various fields of social research such as subjective well-being, gender issues, religiosity, and civic engagement.