The Building of a New Georgian Nation: Il/Legality in a Post-Revolutionary Country
A report by Lili Di Puppo at the regular LCSR seminar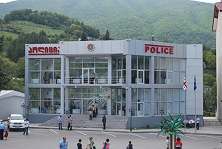 On March 20, 2014 Lili Di Puppo (Assistant Professor, Department of Sociology, HSE) presented a report «The building of a new Georgian nation: il/legality in a post-revolutionary country» at the regular seminar of LCSR.
Using the methods of observation and interviews Lili Di Puppo studied the evolution in perception of the reforms in the post-revolutionary Georgia from the "success story" to "authoritarianism".
The speaker indicated certain paradoxes of the post-revolutionary period under the administration of Mikhail Saakashvili in Georgia (2003-2012) and focused in particular on the police reform. The police reform illustrates the multifaceted nature of the Georgian state-building experiment as it has at the same time led to the creation of a new and professional patrol police to replace the corrupt traffic police of the past. However, it has also resulted in the centralisation of the Interior Ministry and the rise in surveillance practices as well as in the cases of police abuse.
The post-revolutionary government is characterised by the use of a symbolic repertoire where metaphors of "light" and "darkness" play an important role. The state is represented as the "legal-rational domain" in the official rhetoric that is engaged in a permanent battle with a dark criminal underworld also associated with the past (USSR-oriented) Georgia. However, these oppositions mask certain connections between the domains. The punitive dimension of the state serves to reasserting its sovereignty through the creation of spectacle where the battle of the law-enforcement domain with the criminal underworld becomes theatricalised. Repressive methods are applied to the members of society who disagree with the political regime and could destabilize the system.
The speaker's report provoked a lively discussion. Anastasia Dubova (LCSR, research fellow) who was a discussant offered to describe the respondents in more detail. The participants noted the relevance of the study and the objective description of reality.
by Tatiana Stepanenko