4th LCSR International Workshop. Day 4
Ekaterina Dergunova's summary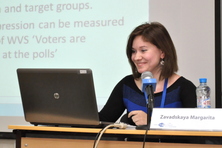 Ekaterina Dergunova (research assistant at LCSR) tells about the fourth day of the 4th International Research Workshop "Social and cultural changes in comparative prospect: values and modernization".
The fourth day of the conference began with the section "Modernization, Stratification and Values". Alexander Seymer (University of Salzburg) presented a report "Stratification and Values — Prospects of Creation of an Integrated Indicator of a Social Position". In his work Alexander tries to understand the distinctive features of social structure of the modern European countries using latent class analysis and to propose a universal measure for a social position. Then Margarita Zavadskaya (The European University Institute in Florence) and Alexey Gilev (The Center of Comparative History and Political Research, the Perm State University) told about the new project on studying various forms of clientelism and their ties with the level of value and economic modernization. Matthias Meyer-Schwarzenberger's report (University of St. Gallen, Switzerland) on the impact of grammar language structures on formation of value beliefs closed the section.
The plenary session that included the lecture by Hermann Duelmer (The University of Cologne; GESIS) and Jan Delhey (University of Yakobs, Germany) became the central event of day. Professor Duelmer told about his research on moral representations of the Europeans and the factors causing changes of ethic standards and (admissible public opinion) limits of deviations in the last decades. Jan Delhey's report was devoted to interdependence of inequality and subjective well-being. During the lecture he commented on strong and weak sides of a so-called "spirit-level theory" offered in 2010 Richard Wilkinson and Kate Piklett for an explanation of trends of subjective wellbeing in the developed countries. According to this theory, after reaching a certain level of welfare, not just the economic growth, and the level of economic inequality in society becomes a key factor defining subjective well-being of individuals.
The after-dinner section was opened by Irina Denisova (New Economic School, Moscow) with a report on "Support of Redistributive Policy in the post-Communist Countries". Eiji Yamamura (University Seynan Gakuin, Fukuoka, Japan) compared perceptions of various countries by their own citizens and foreigners. Then Vladimir Gimpelson (Center for Labor Research, HSE, Moscow) and Galina Monusova (Institute of the World Economy and International Relations; HSE) presented a new project checking "the theory of tunnel effect" proposed by A. Hirshman. Their preliminary results show that the high level of social mobility in the country promotes higher tolerance of citizens even to a considerable economic inequality.
The last section of the day, "Social Justice and Perception of an Inequality", included two reports. Julia Zelikova (LCSR HSE, St. Petersburg)'s research were devoted to the relations between various types of system of social support and individual well-being of citizens of countries where those systems were implemented. Olga Gryaznova (The European University Institute, Florence) presented the new results of the project on influence of values and social status on individual preferences in the domain of social policy.
by Ekaterina Dergunova