Islam at the post-Soviet space: between nationalism and globalization
LCSR researchers attended a workshop at Kazan Federal University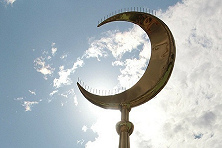 On March, 22-24, 2014 the international seminar on "Islam at the post-Soviet space: between nationalism and globalization" took place at the Kazan Federal University. 
The seminar was organized by the Center for cultural research of Post-Socialism. The participants arrived from Moscow, St Petersburg, Brussels, Zurich, Kiev, Helsinki, Astana, Almaty and Tartu.  The core topics of this conference were the interaction between official Muslim organizations in Russia and international Muslim communities; functioning of Islam in a secular state; religious radicalism and the politization of Islam; islamophobia in public space and many others. During the seminar several panel discussions were held; the presentation of the new books devoted to Islamic studies issued by fond "Mardjani" also took place.
The Laboratory for Comparative Social Research at the seminar was presented by Eduard Ponarin and Veronica Kostenko. Eduard delivered a lecture on "Religiosity and attitudes towards women rights in Arab world and Muslim countries of ex-USSR", Veronika told about the results of a joint project with Sofia Lopatina on sexual liberalization in Central Asia and other post-Soviet states.
Further information is available here.