Decamouflaging the Hierarchies of the Early Modern State: Royal Court in 16th century Russia as a Social Network
A report by Vladimir Uspensky at the regular LCSR seminar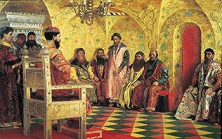 On December 19, 2013 Vladimir Uspensky (senior lecturer, department of history, HSE at St. Petersburg) delivered a report on "Decamouflaging the Hierarchies of the Early Modern State: Royal Court  in 16th century Russia as a Social Network". Kirill Zhirkov (LCSR, research fellow) was a discussant at the seminar.
The most special about the work of Vladimir Uspensky, a young medievalist from the department of history, HSE St-Petersburg, is the methodology that he uses, which is untypical for historical science. Social Network Analysis is a relatively new method for historians of the Middle Ages. In general, social network analysis examines the social reality in terms of "network theory", in which the network is understood as a set of nodes, i.e. participants of the historical process (individuals or interest groups), and ties which represent the relationships between the nodes such as friendship, kinship, service, business, sexual relations, etc. 
Vladimir applied the social network analysis to study two parallel institutional structures, existed within the Russian court in 1560ies: Oprichnina and Zemshchina. He assumed that two relatives appointed on close positions of the same or close level should be counted as one node in social network. To compile a database that provides an opportunity to analyze situational ties within the Tsar's court, Vladimir used a historical service documents, so-called "razryad" books.  
Theory of social networks proved to be useful and new for studying medieval history and, in particular, of serving corporations. It was found that the structure of relations in Oprichnina was much more archaic and based on more hierarchical relationships, than in Zemshchina, contrary to the common view of XX century's historians. The structure of Oprichnina has two almost independent centers, referred to Belski and Shuisky family groups. The lack of nodes between them may indicate the possible existence of a conflict between these clans. However, Vladimir treats to the last conclusion with a bit of distrust, as well as other attempts of generalization.
The Soviet history school considered Oprichnina as an advanced social structure that was introduced to reform the obsolete system of social relations, peculiar to Zemshchina. Moreover, this view still exists in historical science nowadays – Oprichnina is considered by many contemporary scholars as a progressive local (court) reform. Social network analysis refutes this opinion. 
by Gennadiy Yakovlev