LCSR International Conference - Day 3
Anna Ryabchikova sums up the most interesting reports of the third day of the Conference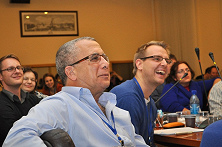 The third day of the conference began with a section of the anti-immigrant prejudice and integration of migrants. Oleksiy Shestakovsky (National Academy of Sciences of Ukraine, Kiev) presented alternative explanations for anti-immigration prejudice: social identity theory, anomie and authoritarianism. The speaker told about the macro-social changes that contribute to suppression of anti - immigrant alerts. Romana Careja, the guest speaker from the University of Cologne, delivered a report on anti-immigrant party discourses in contemporary Western Europe. The next speaker was Evgenia Polyakova (Johannes Gutenberg University of Mainz, Germany), who reported on economic and cultural components of integration of migrant workers. She used  economic approach to analyze the factors that influence the strategy for integration of immigrants in 21 European countries.
During plenary session Arye Rattner (University of Haifa, Israel) presented the results of his research on crime and immigration using example of socialization and acculturation of Russian immigrants in Israel. He found out that despite of rather negative attitudes towards predominantly secular post-Soviet citizens in religious circles of Israeli public and media, they do not conduct more crimes than other Israelis. The report aroused great interest of the audience.
The second lecturer at the plenary session was Peter Schmidt (University of Giessen, Germany; ILSCR HSE) who revealed the process of segregation formation in Germany. They conducted an experiment using "vignette design" when surveying local parents. Professor Schmidt and his colleagues asked, whether ethnic composition was an important characteristics for the school choice decision, and managed to achieve very stable results in analyzing issues of segregation of immigrants on the example of residential district and school choice in Germany.
After lunch, Amos Zehavi (Tel-Aviv University), Vladimir Pereboev (Eurasian Bank of Development), Nazik Beishenaly (Academy of public administration under the President of Kyrgyz Republic), Maria Ravlik (Georg-August University, Göttingen, Germany), Kathrin Ackerman (University of Bern), and Marina Goroshit (College of Tel Hai, Israel) presented on various topics, such as protest movement, racial intolerance and anti-trafficking enforcement. The presentations of their reports are available at the LCSR website for all whose interested
The last section of the day was on "Social capital, informal ties and well-being". Lusine Grigoryan, researcher from another international laboratory of HSE, ILSCR, delivered a report on informal ties in organization as the basis of commitment. Fabio Sabatini  (Sapienza University of Rome, Italy)gave a great talk in the link between Internet and well-being. Expressive performance Joshua Dubrow (Polish Academy of Sciences) ended the third day of the conference. He presented a report on the representation of countries at the conferences organized by the International Sociological Association, 1992 to 2012. He addressed the question what factors influence the activity of the country in the International Sociological Association. The presentation ended with a discussion of the international sociological community.
After the intensive day foreign guests were invited to a bus tour to enjoy beautiful night view of Moscow capital.
by Anna Ryabchikova