Third LCSR Conference has started
Read a report by Tatiana Stepanenko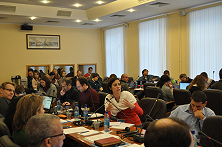 3rd International Research Conference of the LCSR "Cultural and Economic changes under cross-national perspective" has started. The conference program for November 12th included four sessions. Twelve participants presented their reports on various topics such as nationalism, voting and civic engagement in Europe, elites and tolerance.
The first session "Nationalism and Democracy" was opened by the speech of Christian Welzel (Leuphana University, LCSR HSE, St. Petersburg) and Eduard Ponarin (LCSR HSE, St. Petersburg). Marharyta Fabrykant (Belarusian State University, Minsk) was the first speaker of the day. She delivered a report about reasons of individual and country-level predictors of national pride. Aleksey Domanov (LCSR HSE, Moscow) told about the predictors of public political euro-skepticism in the EU (on data of Eurostat and the European Commission, 2003-2011). Margarita Zavadskaya (European University Institute, Florence) shared the final results of her experimental research "Protests under Non-Democratic Regimes: 'Contingent' Democrats Versus 'Genuine' Democrats. Exploring the Cross-National Variation at the Individual Level". She showed that in most of authoritarian countries those sharing emancipative values tend to take part in peaceful forms of protest to the greater extent.
Two lectures were presented on plenary session moderated by Ronald Inglehart (University of Michigan, USA; LCSR HSE, St. Petersburg). Christian Welzel (Leuphana University, Luneburg; LCSR HSE, St. Petersburg) delivered a lecture "The Paradox of Democracy: Why Mass Desires for Democracy Easily Coexist with Lack of Democracy". Chris proposed a hypothesis about relation between emancipative values and effective democracy. There are three reasons why emancipative values are important prerequisites for democracy: emancipative values 1) focus on liberal features of democracy, 2) make people critical to their country democratic performance, 3) encourage people to express their criticism publically. Then Eduard Ponarin (LCSR HSE, St. Petersburg) presented his report: "Russia's elite: what they think of the United States and why". This report is a collective work of the LCSR researchers and scholars from the University of Michigan based on a 20-year long survey of values of Russian elites. Eduard Ponarin offered ressentiment theory for explaining growth of anti-Americanism after mid 1990s in Russia.
Nicolas Griesshaber (Humboldt University, Berlin) opened the second working session and reported on his new project concerning formal civic involvement and political integration among immigrants in Europe. Boris Sokolov (LCSR HSE, St. Petersburg) spoke on "Country-level predictors of the electoral fortunes of right-wing populist parties in Europe: a two-Part random-effects model". He found a relation between country-level value polarization and electoral support for the right-wing populist parties and contributed to methodology of such studies. Frank Neher (Freie Universitaet, Berlin) presented a guest paper on redistribution in democracies which aims to answer the question: does the median voter get what she wants? Report of comparative perspective of civic engagement in Europe by Alla Marchenko (Kyiv National Taras Shevchenko University, Ukraine) was final one in the second working session.
The final session of the first day of LCSR Conference was dedicated to topics of loneliness, poverty perception and corruption in Europe. Christopher Swader (LCSR HSE, Moscow) demonstrated the final results of his project investigating roots of Russian loneliness. He found correlation between size of the city (and region) and different reasons of loneliness (using WVS Data). Markus Kainu (University of Turku) presented a new project "Attributions for Poverty in Post-Socialist Countries". Maria Kravtsova (HSE) also presented the report on a new collaborative project with Alexey Oshchepkov about market and network types of corruption.  
by Tatiana Stepanenko