November, 16 — regular seminar
Event ended
Topic: "European Social Attitudes: stability and change. Presentation of 8 th round of ESS"
Speaker: Anna Andreenkova (Vice-director of CESSI (Institute for Comparative Social Research), National Coordinator of European Social Survey in Russia)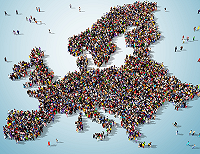 The Laboratory for Comparative Social Research announces the next regular seminar, which will be held in Moscow (Krivokolenny Pereulok, 3, room 3-333) on November, 16 at 18-00 p.m. Anna Andreenkova (Vice-director of CESSI (Institute for Comparative Social Research), National Coordinator of European Social Survey in Russia) will deliver a report "European Social Attitudes: stability and change. Presentation of 8 th round of ESS".
First two decades of new century is often characterized as the time of high social dynamicand turbulence driven by institutional changes in economy and politics, globalization andinternationalization along with increasing tensions and conflicts between different groups.Whether institutional changes lead or correspond with changes in attitudes of people in differentparts of Europe is the subject for cross-national analysis of comparative survey data. ESS, one ofthe leading comparative trend survey in Europe, released new round of data collected biannuallysince 2002 in most countries of Europe including Russia (since 2006).
ESS data shows that European attitudes are shaped by two opposite trends - relative stabilityin attitudes related to personal life and beliefs (attitudes toward family, religion, social ties andcommunication, work and carrier) and rather high changes in attitudes toward societal aspects ofpeople's life (political attitudes, issues of tolerance and relations between different groups). Thedegree of stability and change in different European societies is also not equal.
Russia is one of the most rapidly changing society in Europe although changes go notalways in expected direction. In particular attitudes to politics and political life appeared tochange less than expected while in other parts of Europe changes in this domain are substantial.The influence of economic crisis on social and political attitudes and life strategies of Europeansin most countries was very substantial. But in some countries it had only short-term effect andthe recent round of ESS shows the recovery of institutional trust, satisfaction with the work ofpolitical, economic and social institutions, increase of participation and civic actions. In somecountries including Russia the effect of economic crisis was more gradual but the process ofrecovery takes longer.
Working language is English.
Videoconference with St. Petersburg office of the LCSR (room 303, 55-2, Sedova st.) will be provided. Guests from St. Petersburg are invited to make a request for a pass to the building to Violetta Korsunova (vikorsunova@hse.ru) by 12 am of the seminar's day.
Guests from Moscow are invited to make a request for a pass to the building to Tereza Tonyan (ttonyan@hse.ru) by 12 am of the seminar's day.
Also after the seminar a videotape will be put up after the summary of the presentation.