The Awards for the Winners of the President's of Russian Federation grant
Anna Nemirovskaya is among the Laureates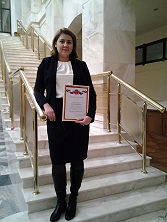 The winners in the contest for the President's of Russian Federation Grant for young scientists - candidates of science were awarded last week in Moscow, during the 8th All-Russia Science Festival. Anna Nemirovskaya, senior research fellow at LCSR, was among the Laureates.
Anna received a grant to conduct the research on "Socio-cultural and institutional aspects of social modernization of Siberian regions". The research group under Anna's direction also includes Vladimir Kozlov (associate researcher at LCSR), Ekaterina Lytkina (research assistant at LCSR) and Julia Savinkova.
The Laboratory congratulates Anna and wishes her further academic success!