Gender attitudes before and after crisis: cross-cultural comparison
A report by Natalia Soboleva at the regular LCSR seminar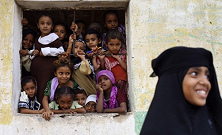 On October, 3, 2013 Natalia Soboleva (Junior research fellow of the Laboratory for comparative social research) presented a report on "Gender attitudes before and after crisis: cross-cultural comparison" at LCSR regular seminar.
Global economic crisis of 2008 impacted various spheres of life changing values and attitudes. This fact allowed assuming that the crisis influenced certain shifts in gender attitudes as well. The main goal of the research is to reveal how economic and social vulnerability influence gender attitudes. The hypothesis is that the crisis impacted labor market and reshaped the value system on the whole and gender attitudes in particular.
The study was based on 5th and 6th waves of World Value Survey including 22 countries. Three indicators were chosen to demonstrate gender attitudes in multilevel regression: importance of higher education for women, their abilities in leading business and their prospects in the sphere of politics.   
The research revealed that in spite of economic crisis gender attitudes are becoming more egalitarian worldwide, and this trend is even more noticeable among male population. This might be explained by the fact that during economic crisis significant amount of men lost their jobs or got less prestigious positions which made them more flexible in the evaluation of women as equal partners or even major breadwinners. On the country level, countries with high unemployment rate were characterized by more egalitarian gender attitudes even before the times of crisis. On the individual level, unemployed people who live in countries with high level of unemployment (meaning that their situation is more or less regular thing) show stronger support for gender equality. 
   by Victoria Remezkova

 Download prezentation