"British sociologists have found..." or the problem of cooperation of social sciences with the press
Grigory Tarasevich's talk at the LCSR regular seminar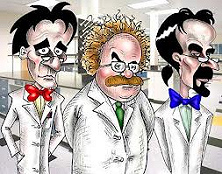 On March 7, 2013, Grigory Tarasevich, science department editor at the Russian Reporter magazine, delivered a report on «"British sociologists have found..." or the problem of cooperation of social sciences with the press».
In Russian, expression "British scientists have found ..." refers to the standard design of science news headline. The phrase has quickly become a humorous one and is used most often as a joke. This reflects an important issue for science in the Information Age: how can researchers transform their results into an attractive headline for popular science or even non-science magazine?
The speaker pointed out that this is an important problem both for science and humanities. But the humanities are in a worse position. This is due to the fact that, for example, biologists or physicists have proven communication frameworks to present the results of their research to mass audience.  But there are no such clear patterns of news making in the humanities. That's why attempts of sociologists or political scientists to tell about their findings often do not look convincing.
This situation is related to another problem of the humanities. Grigory Tarasevich noted that the humanities are not perceived as "real science" by the audience of non-science journals.  The reasons for this can be seen in the fact that social scientists (as well as psychologists and linguists) tend to draw conclusions in the most understandable way to the audience when describe their findings in popular magazines. However, the absence of scientific expressions not only makes the news trivial, but also raises doubts about its trustworthiness.
At the end of the seminar an active learning experiment was conducted. Grigory offered to the staff of the Lab to create a headline for the popular non-scientific journal using results of any LCSR research project. Eduard Ponarin presented findings of a study of the roots of anti-american sentiments in post-Soviet Russia, and participants of the seminar formulated several versions of the news headline describing the paper. In his turn, Gregory Tarasevich helped to identify some common errors that scientists make when they try to do journalists' work.
by Yuri Voynilov