President of Russian Federation Grant for young candidates of science
Anna Nemirovskaya, senior researcher at LCSR, is among the winners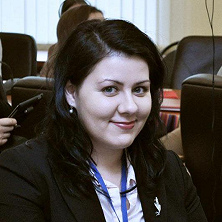 The results of President of Russian Federation Grant for young candidates of science competition were announced last week. We are pleased to inform that Anna Nemirovskaya, senior researcher at LCSR, is among the winners.
Anna has received a two-year grant to conduct the research on "Socio-cultural and institutional aspects of social modernization of Siberian regions". It is an individual grant, but it is expected that the grantee will work in the team which includes three more researchers. In addition to the grant holder, the group must comprise one more Candidate of Science, PhD student and MA student, specialized in related topics. Anna's proposal includes Vladimir Kozlov (associate researcher at LCSR), Ekaterina Lytkina and Julia Savinkova (research assistants at LCSR).
The Laboratory congratulates Anna and wishes her further academic success!