"Social Change in Cross-National Perspective"
The Report on the 2nd International Annual Research Conference of Laboratory for Comparative Social Research
On 6-10 November, the 2nd International Annual Research Conference, "Social Change in Cross-National Perspective", of the Laboratory for Comparative Social Research (LCSR) took place at the Higher School of Economics (HSE), Moscow.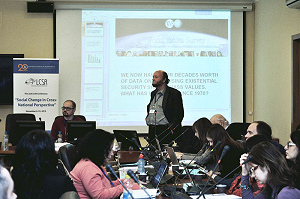 More than 50 social scientists from universities and research centers across Russia, Ukraine, Belorussia, Israel, Italy, Hungary, Romania, Poland, Germany, and the United States participated in the conference. Our laboratory is gradually finding acceptance in the international academic community. This year we had over twenty participants from foreign universities, which includes centers of excellence such as Harvard University, Columbia University, the University of Michigan, the University of Essex, and the European University Institute in Florence.
Two types of papers presented at the conference deserve special mention. The first type includes final reports by LCSR researchers and associated scholars. These include projects presented by Svitlana Khutka (Kyiv-Mohyla Academy), Anna Almakaeva (Samara State University), Anna Nemirovskaya (HSE, St. Petersburg), Nadezhda Shilova (HSE), Anna Shirokanova (Belarusian State University), Christina Puzarina (University of Mannheim), Julia Zelikova (HSE, St. Petersburg), Tatiana Karabchuk (HSE) and Vladimir Kozlov (HSE). Those researchers presented works in progress, ahead of submission to international peer-reviewed journals. From the laboratory's point of view, these are of a very high quality and have a good chance of being published in accepted academic journals.
It should be mentioned that the conference program included many presentations of new projects. This is not surprising: the laboratory has been working for two years, and most of the staff have completed their projects and already published their research . But science never stands still, and each completed study sets the stage for new ones. Furthermore, a call for entry into our research network was hosted recently, and newly affiliated researchers were also able to share their ideas at the symposium.
The second category of reports that should be highlighted is plenary lectures which were given by leading experts in the various fields of social research. This group of prominent social scientists included LCSR research supervisor Ronald Inglehart (University of Michigan, USA; HSE), Professor Christian Welzel (University Leufana, Germany; HSE), American political sociologist Jon Miller (University of Michigan, USA), head of LCSR Eduard Ponarin (St. Petersburg Branch of the HSE), Anna Nemirovskaya (HSE, St. Petersburg) and Roberto Foa (Harvard University), Joshua Dubrow (Polish Academy of Sciences), Anna Andreenkova (CESSI) and Igor Zadorin, the head of the Eurasian Monitor . You may become familiar with the annotations and presentations of them on the official website of the LCSR.
Many other interesting papers were presented at the conference. It is not possible to describe all the presentations made by inspiring researchers such as Peter Schmidt, Andrey Shcherbak, Svetlana Borinskaya, Nicolas Griesshaber, Malgorzata Mikucka, and Alexey Bessudnov. But almost all presented reports can be found at the conference website. Short summaries of these reports will be prepared by the LCSR staff and be made available online.
The days of the conference saw many vibrant and intellectually challenging formal and informal debates that cannot be easily transcribed on paper. But fortunately, we live in an age where photo archives can provide a glimpse into the joyful events. Therefore our each review of the day has been supplemented by a special photo report. The best photos from the conference may be also found on our page on Facebook.
We are very thankful to all the participants, lecturers, and organizing staff of our conference! We hope that they go home with the best impression of the event. We invite everyone to take part in the upcoming events of our Laboratory in 2013 which will include the traditional spring workshop, LCSR Summer School, and, of course, the 3rd International Research Conference of the LCSR. Watch out for announcements and news on our website!
P.S. Brief summaries of the plenary lectures are available on our Website!