LCSR Annual Conference - The Plenary Session
Ekaterina Turanova and Irina Vartanova highlighted reports of the third day of the Conference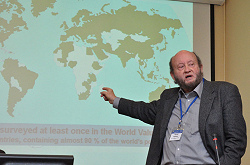 2nd LCSR Annual Conference continues its work. On November 8 the plenary session of the conference was held. Irina Vartanova and Ekaterina Turanova, research assistants at the Lab, highlighted the third day of our conference for the LCSR website.
Today the Conference started with an opening speech by Ronald Inglehart, Scientific Supervisor of LCSR, who presented a report on progress of the staff of the Laboratory for last two years. Professor pointed out that LCSR had trained more than 50 young social scientists who successfully carried out lots of projects primarily concerning with a drastic process of values change in Russia and post-soviet countries.
Anna Andreenkova (Institute for Comparative Social Research, European Social Survey) launched the first plenary session with a lecture on political changes in Russia and post-soviet countries. She revealed an interesting tendency: while in western democracies interest to politics is positively related to political involvement and level of satisfaction with performance of a national government, in Russia it is negatively related. This trend allows partly interpreting a resent rise of mass protests of well-off classes in Russia. Roberto Foa (Harvard University, USA; LCSR HSE, St. Petersburg) and Anna Nemirovskaya  (LCSR HSE, St. Petersburg) presented a research project "Internal Empires: Politics and Society on the Frontier" which explains the difference between frontier and core regions in four countries – Russia, Canada, Brazil and the United States.
The second plenary session was devoted to evolutionary modernization, human empowerment and partisanship. Ronald Inglehart (University of Michigan, USA; LCSR HSE, St. Petersburg) gave a talk about self-expression values gradually replacing survival values in postindustrial societies and influence of these changes on level of tolerance, role of religion, political participation, prospects for democracy and other important issues. The next speaker, Christian Welzel (Leuphana University, Luneburg;  LCSR HSE, St. Petersburg) examined an impact which several components of human empowerment (technological advancement and emancipative values) have on environment and made a conclusion that a process of human empowerment in general is ecologically neutral. Jon Miller (University of Michigan, USA) delivered a speech on evolution of ideological partisanship in the United States. He explained why political system of the United States changed from largely non-ideological to a polarized rigidly ideological system.
After lunch Eduard Ponarin (LCSR HSE, St. Petersburg) opened the third plenary session with a report "Institutionalization of Official Nationalisms in the Volga-Urals region". He presented results of researches conducted in Tatarstan and Bashkortostan in 2005 and 2011, which demonstrate a relation between religiosity and rise of nationalism among Tatars in two republics after a collapse of Soviet ideology. After that Joshua Dubrow (Polish Academy of Sciences) introduced results of analysis of concept of intersectionality using cross-national survey data and demonstrated controversial evidences of relations between intersectional groups comprised of gender, ethnicity and social class and their socio-economic status. Finally, Igor Zadorin (ZIRKON) presented a project "The Integration Barometer EDB" conducted by international research consortium "Eurasian Monitor" with the Eurasian Development Bank (EDB) which investigates integration attitudes among citizens of the post-Soviet countries.
In the evening participants of the Conference had an exciting cultural program including sightseeing tour in Moscow.
by Ekaterina Turanova and Irina Vartanova