4th LSCR International Workshop. Day 8
Maria Kravtsova's overview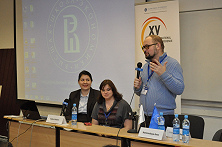 The 4th International Research Workshop "Social and cultural changes in comparative prospect: values and modernization" came to the end. Maria Kravtsova prepared an overview of the last, 8-th day of the conference.
The last day of the workshop began with the presentation of several new projects devoted to fertility and to the impact of parenthood on different aspects of life. Tatiana Karabchuk presented her study on the causes of decreasing birth rates in European countries. She emphasized that the global change in human values is not the only factor explaining the decline of births.  The particular qualities of the employment legislation, which are associated with job instability and high proportions of temporary workers among young generations, might be also relevant. The main hypothesis of Tatiana's study is that job instability might have an impact on fertility intentions. Malgorzata Mikucka is going to study the effect of parenthood on life satisfaction using the panel data on Russia. The results obtained for Russia will be compared with Germany, Great Britain and Switzerland. The research project of Anna Ryabchikova is devoted to the analysis of factors, which influence the correlation between desired and observed fertility.  
The second session was opened by a new project of Andrey Shcherbak, who continues to study the relationship between non-social factors and social change. He presented an interesting finding that lactose intolerance has a strong negative association with emancipative values. The last presenter of the workshop was Vladimir Kozlov with his new project on predictors of healthy life at the age of 60 and older. Vladimir showed that health status of the older people is mainly determined by socio-economic status and healthy life style.
The 4th international research Workshop was concluded by the closing speech by Eduard Ponarin (LCSR, Director) and Tatiana Karabchuk (LCSR, deputy director). Professor Ponarin gave positive evaluation of the progress of the laboratory members. He mentioned that the mean quality of research projects is stably increasing and the variance is decreasing. The high quality of LCSR research was also acknowledged by the famous German political scientist Hans-Dieter Klingemann invited as the keynote speaker. He was impressed by the originality and methodological quality of presented projects. According to Klingemann, LCSR gave rise to "the new generation of young Russian scholars that we have been waiting to see for a long time".
by Maria Kravtsova