4th LCSR International Workshop. Day 3
Victoria Remezkova highlights the day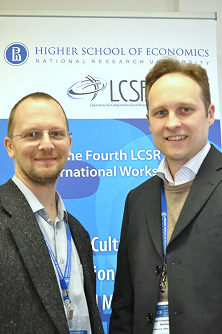 The third day of the 4th LCSR International Workshop began with a working session on subjective happiness and well-being. Irina Vartanova (Institute for Future Studies, Stockholm) presented a report on subjective well-being of knowledge workers. Markus Kainu (University of Turku) discussed the determinants of poverty and attitudes towards it in post-Socialist countries. After that Roberto Foa (Harvard University) reported on his joint project with Anna Nemirovskaya  (LCSR HSE, St. Petersburg) on governance in Russian frontier regions.
Coffee-break was followed by the plenary session where Francesco Sarracino (STATEC, Luxembourg; Gesis, Germany) gave a talk on socially sustainable economic systems. Looking at the connection between economic growth and social capital, he discovered that in the situation of significant social inequality economic growth erodes social capital and decreases the level of subjective well-being. However, there are some reasons to believe that the creation of socially sustainable economic system that aims to boost subjective well-being is theoretically possible.
The next working session was devoted to the relations between social capital and subjective well-being. Fabio Sabatini (Sapienza University of Rome, Italy) reported about his study of online networks, social capital, and subjective well-being. The session was continued by Francesco Sarracino's presentation on the relationship between economic growth, social capital, and poverty traps. Then Leonid Kosals (NRU HSE, Moscow) presented his project that attempts to find out which social networks become social capital.
The ninth working session was opened by Malgorzata Mikucka (Universite catholique de Louvain Belgium) who explained how economic growth and social capital affect subjective well-being. Afterwards Tugba Zeydanli (Paris School of Economics and Nova School of Business and Economics) presented her new project studying the link between elections and subjective well-being in Sub-Saharan Africa. Then Anna Nemirovskaya delivered a report on her research of life standards and subjective well-being in various Russian regions.      
The third day of the workshop was concluded by bus excursion 'Night Moscow' organized for the guests of the conference.  
By Victoria Remezkova