4th LCSR International Workshop. Day 1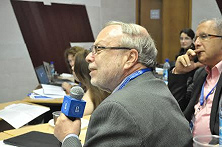 The Workshop was opened by welcome speeches by Vadim Radaev (Vice rector of HSE) and Ronald Inglehart (Supervisor of LCSR NRU HSE). The first day of the Workshop included three working sessions as well as a guest lecture delivered by Eric Uslaner, professor at the University of Maryland (USA).
Anna Almakaeva (LCSR HSE, Moscow) delivered the first report of the day. She talked about the cooperative project with Nicolas Griesshaber (LCSR associate researcher). The researchers use comparative analysis to measure trust. The topic of trust was also raised in the projects of Balazs Telegdi (Hungarian University of Transylvania; University of Bucharest) and Ekaterina Selezneva (Institute for East and Southeast European Studies, Germany), as well as in the above mentioned Professor Uslaner's guest report.
Uslaner's lecture «Diversity, isolation and trust» was devoted to the relationship between cultural diversity and trust. There is a popular opinion that increasing ethnic heterogeneity (for example, caused by the influx of migrants) reduces the level of trust in the society. But Professor Uslaner argues that actually the trust was not reduced by the growth of heterogeneity. The reason for that is segregation rather than diversity. Using survey data from the USA, UK, Canada, Australia and Sweden he showed that people who communicated with other racial or ethnic groups often (via friendship or working relations) are in general more likely to trust others.
The topics of the second session of the day were related to modernization, changing values ​​and racial discrimination. Maria Ravlik (University of Gottingen, Germany) opened the session by the report «A Cross-National Evaluation of the Sources of Anti-Trafficking Enforcement and Migrant Vulnerability to Trafficking». Ekaterina ​​Lytkina (LCSR HSE, Moscow) presented the results of her study of alienation and group-focused enmity in Europe, conducted with Andreas Zick (Interdisciplinary Institute for Research on Conflict and Violence, Germany). Andreas Hovermann and Eva Gross (Interdisciplinary Institute for Research on Conflict and Violence, Germany) presented a new project on institutions and marketized mentality.
Legitimacy, (dis)trust in public institutions and corruption were considered in the final section of the first day. The speakers were Honorata Mazepus (Leiden University, Netherlands), Aleksey Oshchepkov (CLMS HSE, Moscow) and Maria Kravtsova (LCSR HSE, Moscow) and Anastasia Dubova (LCSR HSE). Honorata's report was devoted to evaluation of legitimacy of the political power of citizens in countries with democratic or mixed forms of government. Maria and Aleksey examined the relationship between interpersonal trust, trust in public institutions and tendency to corruption. Their results showed that trust in public institutions is positively related to interpersonal trust, and those persons who do not trust in public institutions pay the bribes more often. Finally, Anastasia presented a new research project on the topic «Corruption and balance between public and private interests: micro-, meso- and macro- levels».
by Tatiana Stepanenko