Representations of the Russian and Nationalist "Golden Age" in the perspective of Belorussian expectations
A new article by Marharyta Fabrikant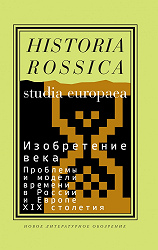 A new article by Marharyta Fabrikant, an associated researcher at LCSR, called   "Representations of the Russian and Nationalist "Golden Age"  in the perspective of Belorussian expectations",  was published in a collective volume "Invention of the Century: Problems and Models of Time in Russia and Europe in 19th Century".
The article is dedicated to studying modes of construction of roles and meanings of the history of the "long nineteenth century" in the grand narrative of national history that was created by Belarusian nationalists in late 1980-s – early 1990s. The research goal was attained by means of the theory of the horizon of expectations introduced by the German historian R.Koselleck. As a result, the strategy of representing the nineteenth century in the Belarusian historical narrative was revealed to stem from the necessity to combine two horizons of expectations from the epoch – the "golden century" of nationalism in its prototypical form and the "golden century" of Russian culture. Consequently, complicated and controversial historical realities were forced to satisfy a set of demands of rigorist ethics and late Romantic aesthetics, which complicated fulfillment of the main task of any historical narrative – integration of events and epochs into a coherent logic of emplotment.
Laboratory staff congratulates Marharyta and wishes her further scientific success!
Fabrikant M. Representations of the Russian and Nationalist "Golden Age" in the perspective of Belorussian expectations //  Invention of the Century: Problems and Models of Time in Russia and Europe in 19th Century. E. Vishlenkova, D, Sdvizkov (Eds.). Moscow, New Literary Observer, 2013, pp. 189-208 (in Russian) ISBN 978-5-4448-0120-8