LCSR International Conference - Day 5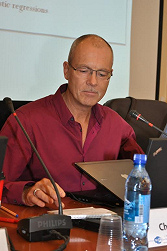 Final day of the Third LCSR International Conference was dedicated to discussion of such topics as religion, employment and family.
The first session was devoted to labor market research, atypical employment and subjective well-being. Andranik Tangian (Hans Böckler Foundation and Karlsruhe Institute of Technology) opened the session with his presentation "Impact of labor market deregulation on the European demography". The next was John Hurley (European Foundation for the Improvement of Living and Working Conditions) with a report "A polarizing crisis – structural employment shifts in the EU27 before during and after the Great Recession?"  He described the recent shifts in employment in European Union from 1998 to 2012 using a structural, "job-based" approach. Tatiana Karabchuk and Natalia Soboleva (LCSR HSE, Moscow) presented the final report on their project "Subjective Well-being of Atypically Employed". They revealed the impact of regulation and employment status on subjective well-being in 20 European states using the ESS 2010 data. Ekaterina Selezneva (Institute for East and Southeast European Studies) gave a presentation "Temporary job position and life satisfaction under different institutional contexts. Analysis for Western and Eastern Europe" (co-author is Cristiano Perugini from University of Perugia, Perugia, Italy).  
The plenary session "Values and religion" was opened by a speech of Elena Prutskova (St.Tikhon's Humanitarian Orthodox University) on "Orthodox Monitor: Toward a Holistic Model of Religious Influence on Values and Attitudes in Countries with Forced Secularization Experience". She presented a research project which aims to study the influence of religion on values and behaviour in various spheres of life (such as family or civic activity) as well as attitudes towards Church initiatives in education, culture, medical care and other fields. Three waves of the survey conducted in 2011-2012 years showed that only 3-5% of Russian population can be characterized as the parish community, and they are extremely different in their values from the rest of Russians. Malina Voicu (EUROLAB, GESIS) continued the plenary session with the report "Social diversity and social values. Does religious diversity differ of ethnic and linguistic one?"  The research revealed strong negative effect of religious diversity on private area. She also found out that the pattern of evolution for ethnic and linguistic diversity is different from religious diversity in public area.
The session on religiosity, work ethic and attitudes was the next. Anna Shirokanova (Belarus State University, Minsk) delivered a progress report on comparison of Christian and Muslim attitudes to work and leisure in contemporary world. The guest of the conference Andrey Chuprygin (NRU HSE, Moscow) presented the results of the study "Reassessing the obvious: Political Islam and the Future of the Faithful". He argued that Islam entities, such as Muslim Brotherhood and Salafi movements, has a different grip on the social and political life in the "countries of origin" and "countries of destination" in Western Europe. Adrian Wojcik (Center for Research on Prejudice, University of Warsaw) closed the session with his new project "The religious sources of pro-environmental attitudes".
The last session of the conference was dedicated to discussion of religiosity, family behavior and children's health and welfare. Two new projects were presented by Olga Popova (Institute for Eastern and Southeastern European Studies) and Lucia Ferrone (University of Florence). Evgenia Bystrov (Jacobs University, Bremen) delivered progress report on the project "Marital behavior and social change in Eastern and Central Europe 1991-2011". She pointed out increasing number of never-married women in Europe, especially in the most affluent societies and analyzed the determinants of this trend in Eastern and Central Europe.
In his closing speech Eduard Ponarin (director of LCSR) emphasized the expansion of the network and success of the conference. The organizing committee handed certificates of participation and sweet presents to the new members of the network and guest lecturers. The intensive conference was closed with a party in a nightclub.
by Anastasia Dubova