January, 31 - Regular Seminar
Event ended
Topic: "Differences in patterns of moderate and radical right voting in Western Europe" 
Speaker: Kirill Zhirkov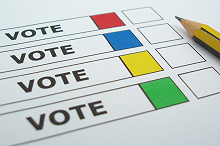 The Laboratory for Comparative Social Research announces the next regular seminar, which will be held  in St.-Petersburg (room 301, 47, Rimskogo-Korsakova prospect) on January, 31 at 6 p.m. Kirill Zhirkov, a LCSR research fellow, will deliver a report on "Differences in patterns of moderate and radical right voting in Western Europe".
Over the past few decades, the academic literature on cross-national happiness has been, roughly A unidimensional division of political spectrum into "left" and "right" is becoming more disputable. One of the causes behind the criticism is the assumption of the revised modernization theory that importance of traditional conflict between left and right related to economic policy should gradually diminish. In the present study author uses quantitative analysis in order to compare motives of moderate and radical right voting in Western Europe. European Social Survey is used as the data source. For these data, multilevel logistic models are tested. Among others, analysis addresses classical political science hypotheses regarding electoral behavior. Empirical results reveal that differences in motives of moderate and radical right voting are relatively modest. The most important predictor in both cases is respondent's self-identification with the right wing of political spectrum. Gathering from the results, it is concluded that as of now classical left-right distinction between the political parties remains relatively stable.
Everyone interested is invited!
Working language is  English
Videoconference with Moscow office of the LCSR (Kochnovskiy Pr. 3, room 306) will be provided. Also after the seminar a videotape will be put up after the summary of the presentation.

All the guests are asked to send e-mail to m.marinanikitina@gmail.com (in Moscow) or ekaterinaturanova@gmail.com  (in St. Petersburg) before noon in the day of the event.