December, 9 — Regular Seminar
Event ended
Topic: Culture at the Individual Level of Analysis?
Speaker: Michael Minkov (LCSR HSE, Russia; Varna University of Management, Bulgaria; University of Tartu, Estonia) (in collaboration with Boris Sokolov, Juri Allik, Marc Tasse, Michael Schachner, Anneli Kaasa)
Ronald F. Inglehart Laboratory for Comparative Social Research announces the next regular seminar, which will be held as a Zoom session on December 9 at 16-30 p.m. (GMT+3). Michael Minkov (LCSR HSE, Russia; Varna University of Management, Bulgaria; University of Tartu, Estonia) will deliver a report "Culture at the Individual Level of Analysis?". The paper was prepared in collaboration with Boris Sokolov, Juri Allik, Marc Tasse, Michael Schachner, Anneli Kaasa.
A link to Zoom session is available after registration via lcsr.event@hse.ru.


Culture is conceptualized as a group-level phenomenon, not a characteristic of individuals, whereas personality measures are considered appropriate for descriptions and comparisons at the individual level. However, cultural dimensions are derived from aggregates of individual's self-descriptions. Do these yield anything meaningful before aggregation and what would that be?
A nationally representative study of Mongolian culture and personality (n = 1500) fielded a short Big-Five questionnaire, as well as a questionnaire targeting the six facets of the two cultural dimensions in the revised Minkov-Hofstede model of culture. Confirmatory and exploratory factor analyses, as well as MDS and HCA showed that the Big Five and the six facets of the cultural dimensions form 11 fairly distinct factors at the individual level, consistent with theoretical expectations. However, hierarchical analyses demonstrated that the personality factors and the cultural factors form higher-order factors in which personality and culture intermix.
In conclusion, culture consists of the fusion of elements that exist separately at the individual level. Although the contents of those elements are different from the contents of the elements of personality, the two types of elements are interwoven inseparably and the existing distinction between them seems to be a matter of abstract theory rather than empirical reality.
Everyone interested is invited!
The working language is English.

Michael Minkov
Academic Supervisor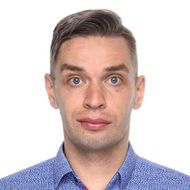 Boris Sokolov
Laboratory Head