May, 14 — regular seminar
Event ended
Topic: "Humanitarian Affinity of Post-Soviet countries: approaches and measurement  based on opinion polls"
Speaker: Igor Zadorin (International Research Agency "Eurasian Monitor", Director; Zircon research group)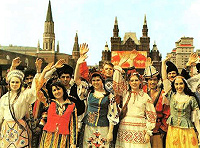 The Laboratory for Comparative Social Research announces the next 

regular seminar

, which will be held in Moscow (Myasnitskaya st., 22, room 511) on February 5 at 17-00 p.m.

Igor Zadorin (International Research Agency "Eurasian Monitor", Director; Zircon research group)

 will deliver a report "Humanitarian Affinity of Post-Soviet countries: approaches and measurement  based on opinion polls".

The paper examines different approaches to measure the humanitarian affinity (attraction) of Post-Soviet countries.  Humanitarian contiguity or affinity of any two countries means the degree of mutual attraction of the citizens of these countries. According to the concept  of appeal (attraction) could be defined though the practical interests to this country in different aspects (from the desire to buy goods produce by this country and to develop a cultural and scientific and technical exchange to the touristic attractions and labour migration). The information is gathered through the population surveys conducted in 11 countries within the Integration Barometer project by the research partnership of Eurasian Monitor. The authors constructed and tested different indexes of paired affinity of these countries, using metric and not metric approaches on the basis of three waves data for 2012-2014. We try to formulate cognitive advantages and disadvantages of using these approaches, and also methodological restrictions for interpretation of the concepts  of "appeal" and "affinity".
 Everyone interested is invited!
Working language is Russian.
Videoconference with St. Petersburg office of the LCSR (room 303, 55-2, Sedova st.) will be provided. Guests are free to enter the building.
Videoconference with Moscow office of the LCSR (room 511, 22, Myasnitskaya st.) will be provided. Guests are free to enter to the 5th floor from 16:45 till 17:15. For questions: +7-495-772-95-90 extension number 12244.
Also after the seminar a videotape will be put up after the summary of the presentation.